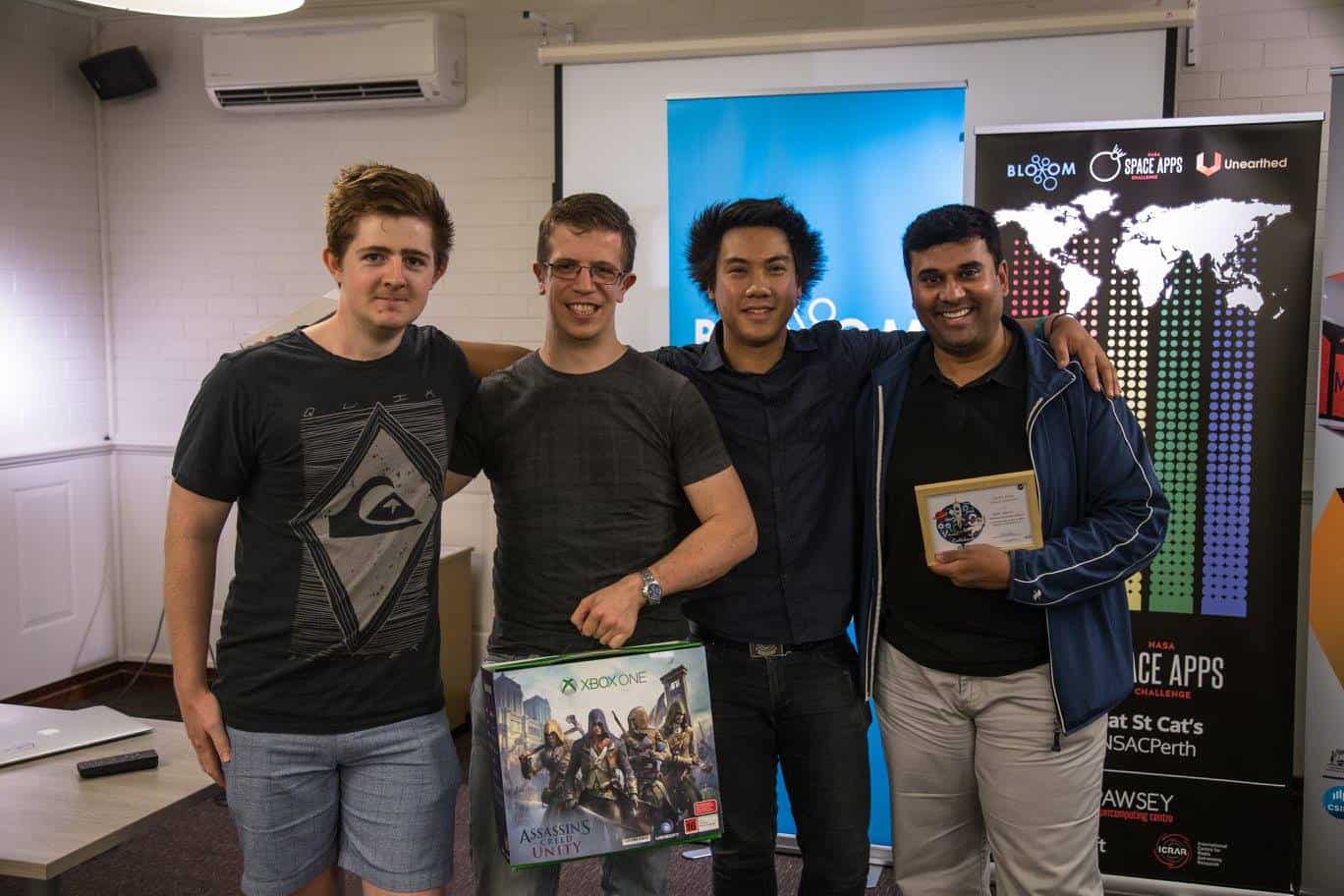 On an average weekend Jared would have been taking a break from solving business problems at Nano Solutions; he'd probably be watching the footy. Recently he mixed it up a bit and competed in the NASA Space Apps Challenge.
NASA SpaceApps Challenge
Each year, bright young stars are given the opportunity to participate in the NASA SpaceApps Challenge. Held in countries throughout the world, the SpaceApps offer innovative problem solvers the chance to put their ideas forward and solve cutting edge problems.
Jared and fellow team members Michael Le Page, Sebastian Becker, Conrad Pires and Carl P-Conquilla formed Team Inspiro and rose to the challenge.
Origami Space Recycled
Team Inspiro decided to focus on the Origami Space Recycled challenge, which asked hackers to take inspiration from origami to design and model the packaging of key spacecraft components. Consequently, they designed a scalable, twin spiral, spin gravity space station which could be easily flat-packed into the payload bay of current launch vehicles, basing their design upon existing artificial gravity research.
Consisting of multiple inter-lockable ribs serving as an exoskeleton, the idea from Jared's team was to create an ever expandable space station which spins to reduce the health problems associated with long-term stays in microgravity. Continually spinning, the aim is to reduce the impact of zero gravity by providing an opposing force in which users of the space station move against.
This matches the strategic plan of NASA which is to work towards further human colonisation of the solar system and allow humans to stay for longer in zero gravity climates.
Perth's Giant Hackathon
Hackathons are regularly used to brainstorm and share information within large corporations. SpaceApps Perth Facilitator Mikey Kailis said that, "Hackathons are becoming a frequent amongst industry as a tool for rapid workshopping of ideas. NASA's Space Apps is a great example of how a major organisation can break down its barriers and connect with communities all over the world."
Joint First Place For Team Inspiro
Competitors pitched their ideas during this giant hackathon to highly respected judges from Pawsey Supercomputing Centre, International Centre for Radio Astronomy Research (ICRAR), Microsoft, Perth Artifactory and CORE resources hub. Team Inspiro took out joint first place here in the Perth competition.
Put Jared To Work For You!
As part of Team Inspiro, Jared contributed to an award winning solution which demonstrated ingenuity, futuristic thinking, problem-solving and communication skills. He brings back with him to Nano Solutions the experience and knowledge he learnt during the Space Apps Challenge.
This not only benefits him, but the entire team and our clients too. Get in touch with us here at Nano Solutions and let us put our creative problem solving skills to work to create amazing digital solutions for your team too.